Meet a DreamUp to Space Team Member: Sophia Siegen, Team Carrot
By Grace Stumpf & Raegan Brown
DreamUp to Space is a project that challenges young people to explore the impact that microgravity has on matter. Through a partnership with DreamUp, iLEAD learners in grades 5-12 are inspired to develop the skills and knowledge to design, develop, and propose an experiment that could be run on the International Space Station.
In July of 2020, two teams from iLEAD Schools were selected for flight in the 2020 DreamUp to Space Virtual Mission & Experiment Design Challenge. Currently, learners from across the network were selected and are now collaborating on these two "Launch Teams" — Team Carrot and Team Vigna Radiata — in preparation for a June 2021 launch of their experiments to the International Space Station.
Each learner has unique interests, strengths, and goals to bring to each team. We'd like to introduce you to our team members! Today we're introducing Sophia Siegen, Team Carrot.
Meet Sophia Siegen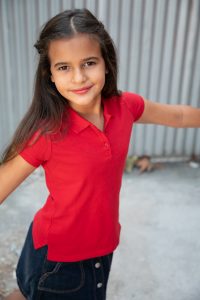 Sophia Siegen, sister to fellow launch team member Hutch Siegen, is a 5th grader at SCVi Charter School in Castaic, California. Sophia is a competitive dancer and has been since she was five years old. Just like her brother, Hutch, Sophia has won numerous awards in Polynesian dance, hip-hop and jazz. Sophia enjoys gymnastics, horseback riding, tennis and golf. Like most 5th graders, Sophia also really likes playing video games with her friends and watching and trying out five-minute crafts from YouTube. Sophia also had the opportunity to start a business over the summer called FooFoo's Festive Pom-Poms, where she hand-makes yarn pom-poms for all occasions! We had the incredible opportunity to ask Sophia some questions about DreamUp and some fun questions about herself!
Hobbies, and things you do in your spare time?
"I love to train my dogs; I have two Australian shepherds. They are super smart and are always looking to learn new things. I just taught them to climb up the slide and slide back down it. I love being outside in general; I love looking at and discovering nature. The other thing I love to do are mix things together to make slime, oobleck, play dough, and any other kinds of ooey-gooey things I can get my hands on, including mud."
How has DreamUp impacted you, and what do you enjoy about it?
"I am really enjoying the opportunities and challenges that the DreamUp to Space program offers. This program has been so much different from any project I have ever done. Researching farming and space exploration continues to be an amazing journey. My dream is to continue to explore space and one day be the first Latina/Armenian-American woman in space!"
What's the most interesting thing about yourself? Or a fun fact!
"I love to dance. Dance of all kinds, including, jazz, hip-hop, ballet, tap, and Polynesien dancing. I love performing the hula and Tahitian dance, which are my two favorites. Your entire body tells a story of the islands and the people of Polynesia. I am not Polynesian, but I am always humbled when I dance the hula and tell the stories of the people of Polynesia."
Who do you look up to?
"My brother, Hutch. We are 16 months apart. I don't know life without him. My mom always calls us Yin and Yang. She says that we are different, but we complement each other and help each other in unique ways. He is smart, and he can always make me laugh."
We look forward to introducing more team members to you soon!